Granite Grom 4x4 Smart Small Scale Mt Green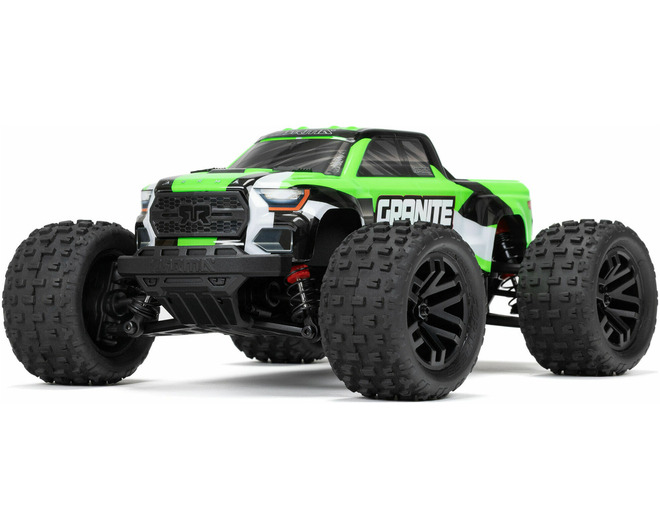 This part is only available in-store.
Description
FEATURES:
Awesome monster truck styling with three color choices
Powerful Spektrum 2S LiPo battery & safe, easy-to-use charger
Easy body attachment and removal
Enclosed drivetrain for all-terrain protection
Reliable, high-quality hex hardware
Durable composite chassis
High-traction 4WD transmission
Tough metal gears
Independent suspension and oil-filled, coil-over shocks
Tough monster truck wheels and tires
Impact-absorbing front and rear bumper
Spektrum SLT2 2-channel 2.4GHz radio
Spektrum SLT 2-in-1 25A waterproof ESC and receiver
Spektrum SX110 waterproof metal-geared servo
2-Year limited warranty (see website for details)
OVERVIEW:
Amped-up ARRMA RC blasting gets "fun-sized" with the fast, tough, and ready-to-run GRANITE GROM 4X4 Monster Truck. At 1/18 scale, it's small enough to take along anywhere. And the GRANITE GROM delivers a big dose of genuine ARRMA performance and durability whenever you get the urge to bash.
Enjoy some after-school RC monster truck action with friends. Sneak in a little bashing during your office lunch break. Whether you're a young beginner or an experienced RC basher, the GRANITE GROM easily fits time for ARRMA RC bashing into your way of life. It's tough, fast and conveniently small.
Unlike many manufacturers of mini RC models, ARRMA made no compromises when shrinking this basher down to small scale size. The GRANITE GROM 4X4 Monster Truck is precision-engineered to the same high standards as larger ARRMA RC vehicles. It also has a clipless body mount design that keeps the body securely attached but easy to remove for all drivers, young and old. Among small scale RC basher models it's in a league of its own, with convenience plus the power, strength, and handling capabilities you need to get serious about your stunts.
The ARRMA GRANITE GROM 4X4 Monster Truck endures any punishment you can dish out. Impact-absorbing front and rear bumpers are the bash-ready bookends to its strong composite chassis. A 4WD transmission with robust metal gears carries power from the MEGA 380 brushed motor through an enclosed drivetrain to the tough dBoots FORTRESS monster truck wheels and tires. Even the Spektrum SX110 steering servo has metal gears and, like the IC2 connector-equipped Spektrum SLT 2-in-1 25A ESC and receiver, it's waterproof for carefree bashing in any conditions.
If you're a first-time RC basher, the Spektrum 2.4GHz SLT2 transmitter helps you learn control skills safely by limiting the monster truck's maximum speed to 50% or 75% until you're ready to handle it all. Recharging the included Spektrum Smart 2S LiPo battery is also worry-free. Just plug it into the supplied Spektrum S10 Smart G2 Mini 2S USB-C Charger with the attached IC2 connectors. Smart technology instantly takes care of the rest. In about an hour, your battery is safely recharged and ready for another round of fun.
Everything you'll need to the run the GRANITE GROM comes in the box. The truck body is professionally factory-finished in your choice of three brilliant, durable color schemes. GRANITE GROM upgrade parts are available for cranking up its capabilities past eleven. They include a Metal Axle & Wheel Hub Set, Aluminum Shock Set, Adjustable Steering Links, and a two-piece, assembled Oil-Filled Differential Set.
Take advantage of small scale value and versatility with the GRANITE GROM 4X4 Monster Truck RTR, and experience ARRMA RC bashing excellence for yourself.
Manufacturer information

Arrma
3002 N. APOLLO DRIVE, SUITE #1
CHAMPAIGN, IL
All warranties and guarantees, including missing items, are handled directly by the manufacturer of that item. Should there be any problem with a product, you (The Customer) will need to contact the manufacturer to obtain service. Manufacturer contact information is available upon request. We must be contacted for a return authorization number before returning items for any reason. We cannot accept returned items that have been opened or are not in their original sealed factory containers.
Compatible vehicles
Alternate part numbers
Here are some alternate part numbers and product codes that you may find this part listed under on other sites:
Additional details
Shipping weight
63.70 ounces
1805.86 grams
3.98 pounds
Package dimensions
11.50 x 9.50 x 7.00
⚠️ WARNING: Cancer and Reproductive Harm - www.P65Warnings.ca.gov ⚠️